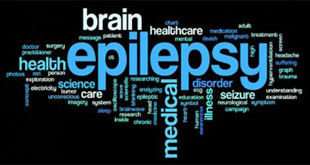 Totally, 36 clinical trials for epilepsy (phases II, III)) are registered at ClinicalTrials.gov for Ukraine. They include 29 clinical trials involving children (adults and children – 20; pediatric trials – 9).
Concerning recruiting status, there are 6 clinical trials (Phase III) showing the Ukrainian city leaders: Zaporizhia – 6, Ivano-Frankivsk/Uzhhorod – 5 trials.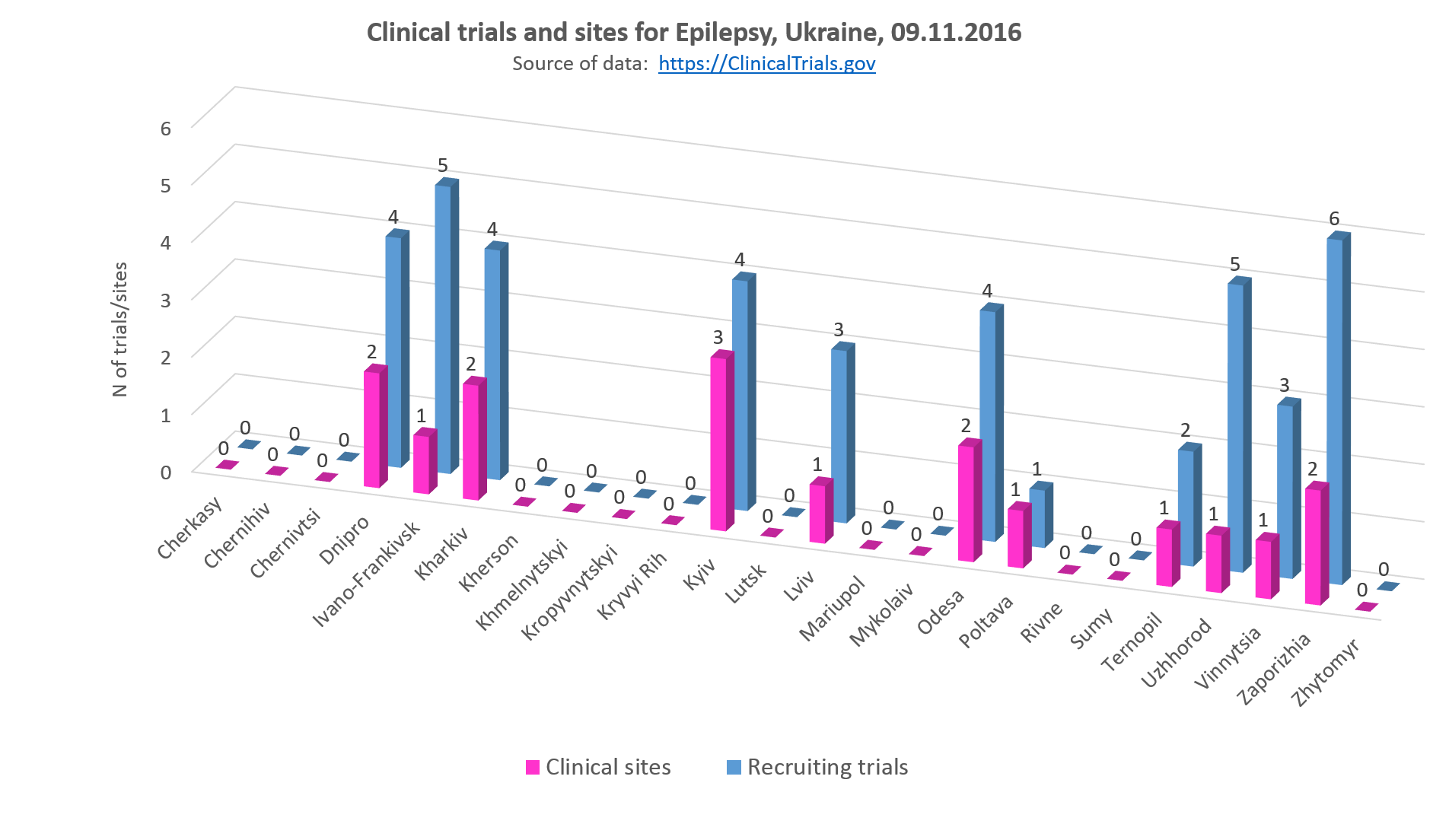 All the recruiting clinical trials in Ukraine are trials involving children (adults & children – 4 trials, pediatric – 2 trials), and this statistics is quite common for the countries in CEE. For comparison, in the world the recruiting trials involving children (79 trials) amounts to 53% from all recruiting clinical trials.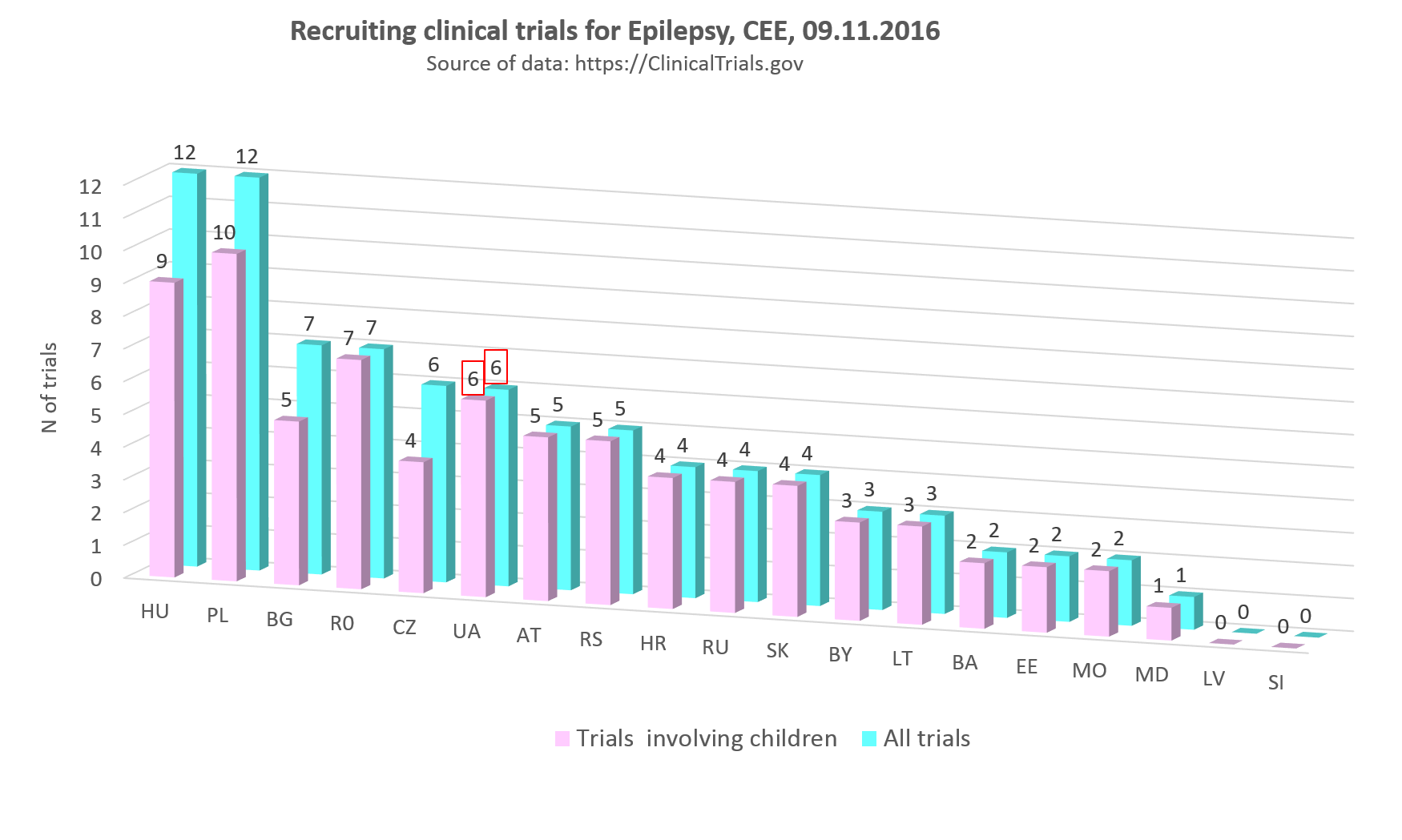 On 10.11.2016 at ClinicalTrials.gov, in the world there are 148 recruiting clinical trials (phases I, I-II – 13 trials), and the 38 (Phase I – 6 trials) of them are trials of medical devices with the evident world leaders: the USA – 15, France – 8, Belgium/China – 5 trials.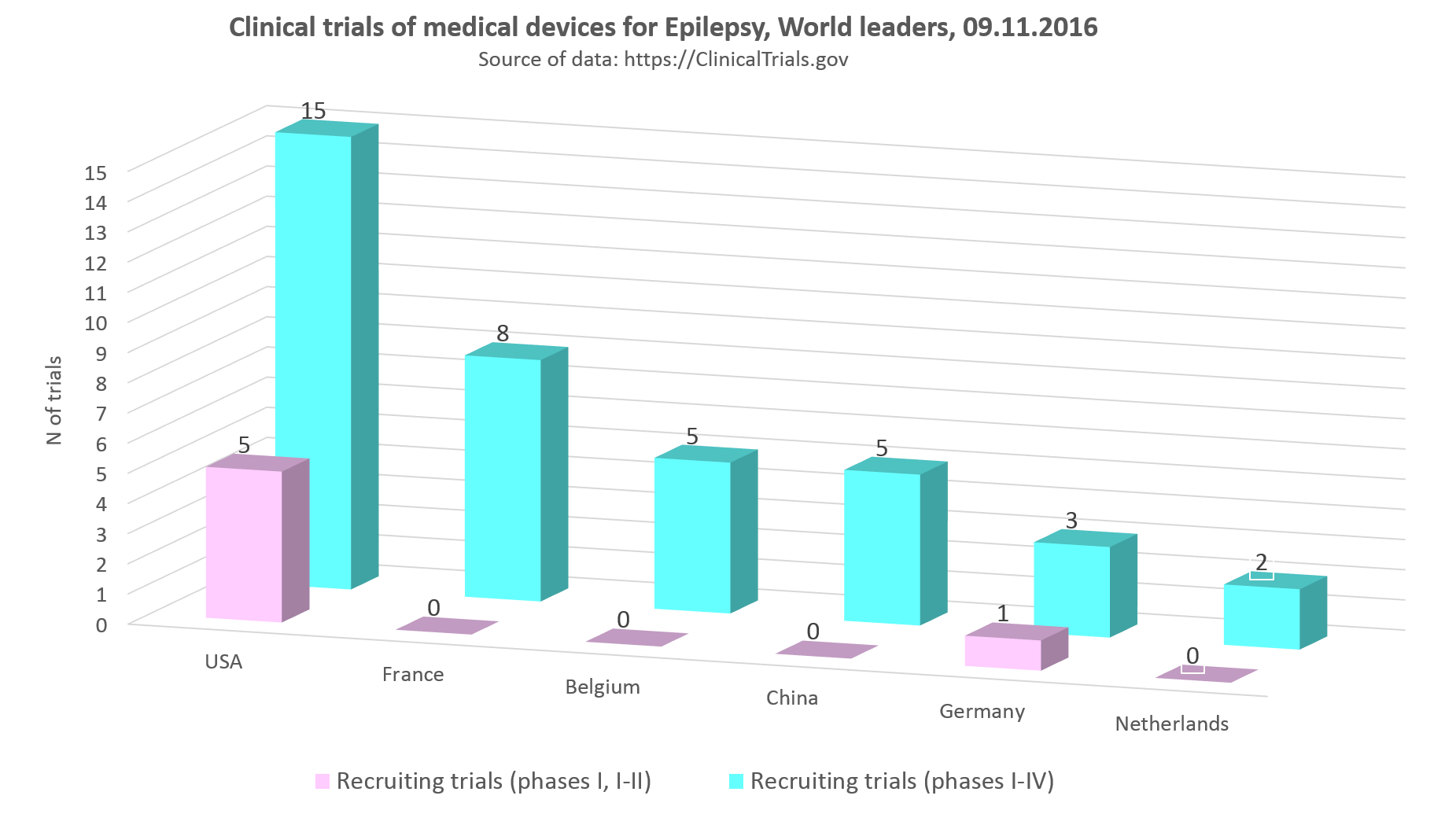 The data on 10.11.2016 at ClinicalTrials.gov following: the total number of recruiting observational (non-interventional) studies in the world is 65; the country leaders are following: the USA – 36, France – 12, the UK – 9 studies.
Public medical organization
The Global Campaign against Epilepsy "Out of the Shadows" is a joint project of the World Health Organization (WHO), the International League Against Epilepsy (ILAE) and the International Bureau for Epilepsy (IBE) since 1997. ILAE has members in 114 chapters around the world including the Ukrainian League Against Epilepsy. Read more
Statistics
The data from the Adapted clinical guidelines based on the evidence "Epilepsy" (2013) following:
In England, there are from 362,000 to 415,000 patients with epilepsy. The incidence is estimated at 50 cases per 100,000 population per year, and the prevalence in the United Kingdom will be 5-10 cases per 1000 population.
Epilepsy takes the 3rd place in prevalence among the diseases of nervous system.
In Ukraine, there are about 100 000 patients, but this figure is understated.
Standardization of medical care
The Order of the Ministry of Health of Ukraine of 17.04.2014 # 276 "On approval and implementation of medico-technological documents on standardization of medical care for Epilepsy". Read more
NB! The cities located on the non-controlled territories of Ukraine are not included in the statistics.