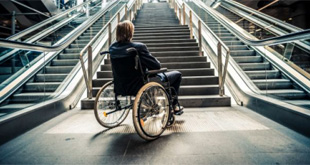 There are lots of amusing things most of us take for granted. A walk in a park, running to catch a bus not to come late to the office, queuing in the department store to buy meal. Those might usually be an impossible mission for disabled people in wheelchairs.
We would like to draw attention of everyone to the issue that lies on top yet still remains quite left behind in Ukraine. We engage everyone to support a new project called "Life on the wheels". It was created by people who care and genuinely wish to help those in wheelchairs to start feeling themselves part of a normal life. The project is aimed to raise funds, install ramps and draw attention of the authorities and the public to everyday problems of disabled people. "Life is a wheel" gathers funds from anyone who is willing to contribute.
Contact details of the project organizers
+380504698087 Andriy
+380957492185 Alina
+380985400170 Iryna
+380675350834 Maryna
For all who wish to provide financial support
Card number: 4627 0551 0525 1333 Vynnychenko, Andriy (one of the organizers), with a note "LP-106 ramps" in the purpose of payment.
(UAH) Recipient:
Charitable Foundation «Pomogaem»
ACCOUNT: 26008050238195 «PRIVATBANK»
MFO code: 305299
EDRPOU: 36532282
Purpose of payment:
«Charitable Contribution – Ramps. Life on the wheels»
Получатель:
Благотворительный Фонд «ПОМОГАЕМ»
Р/С: 26008050238195 в ПАТ КБ ПРИВАТБАНК
МФО: 305299
ЕДРПОУ: 36532282
Назначение платежа:
«Благотворительный взнос. Пандусы»
(EUR) Сompany Name:
Charitable Foundation «Pomogaem»
The bank account of the company:
26009050287253
Name of the bank:
Privatbank, Dnipropetrovsk, Ukraine
Bank SWIFT Code: PBANUA2X
Company address:
Ukraine, Dnipropetrovsk region, Dnipropetrovsk district, Voloske village, 8 Poshtova street
IBAN Code: UA793052990000026009050287253
Account in the correspondent bank:
400886700401
SWIFT-code of the correspondent bank:
COBADEFF
Сorrespondent bank:
Commerzbank AG ,Frankfurt am Main, Germany
Purpose of payment:
«Charitable Contribution – Ramps. Life on the wheels»
(USD) BENEFICIARY:
Charitable Foundation «Pomogaem»
ACCOUNT: 26008050237033
ADDRESS BENEFICIARY:
Ukraine, Dnipropetrovsk region, Dnipropetrovsk district, Voloske village, 8 Poshtova street
BENEFICIARY'S BANK:
COMMERCIAL BANK «PRIVATBANK» 49094, UKRAINE, DNIEPROPETROVSK, SWIFT PBANUA2X
BANK-CORRESPONDENT:
JP MORGAN CHASE BANK, NEW YORK USA, SWIFT BKTRUS33
SWIFT: CHASDEFX
CORR. ACCOUNT: 6231605145
Purpose of payment:
«Charitable Contribution – Ramps. Life on the wheels»