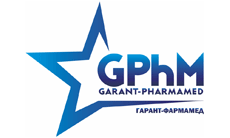 Services: Insurance.
Director/Head: Mrs. Alla Stepanenko.
Contact person: Mrs. Olena Storozhenko.
About Company:
DLC «Insurance Company «Garant-Pharmamed» shows 11 successful years at the insurance market, solid business reputation and financial stability.
Insurance Сompany takes the leading place in clinical research insurance. It provides comprehensive insurance coverage for patients (healthy volunteers) for damage to their life and health due to adverse reactions of investigational product:
medicinal product(s),

tissue and cell transplants,

medicinal immunobiological product,

medicinal equipment and/or medical products.
It also provides insurance coverage for damage to patient's life and health due to professional error of the Principal Investigator and Group of Investigators.
Insurance Company has valid official permission from the insurance regulator of Ukraine to insure the life and health of a patient participating in clinical trial (Copyright № 62741) according to the Law of Ukraine "On Medicines".
Thereby, cooperating with insurance company "Garant-Pharmamed" you can be completely sure, that insurance agreement fully complies with the Ukrainian legislation to get the permission for clinical trial of medical product.
Address info
Address of Company office: 01042 Ukraine, Kyivska Oblast, Kyiv, 3, Saperne Pole st., Apt. 343.
Tel.: +380 44 331-25-41, +380 44 227-68-40.
E-mail: office@garant-pharma.com.
The information is published by the representative of Company.